For more reviews of American Heritage Fireplace, check us out on
Yelp
. Feel free to leave us a review, as we appreciate your feedback.
I thought would send a picture of our fireplace now that we are getting a chance to start using it. We love our insert and look forward to this upcoming winter! I wanted to say thank you again to you and the installation team at American Heritage Fireplace, we are very happy with our experience.

– H. Solon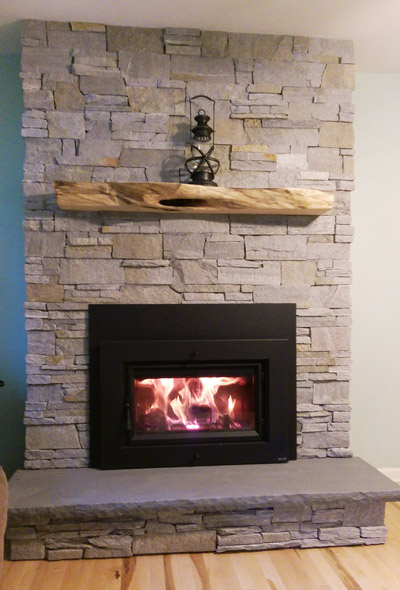 … I just wanted to drop you a quick note directly first to let you know how incredibly pleased we were with our recent fireplace install. Ken and Gary were phenomenal! We cannot speak highly enough about their level of professionalism, friendliness, helpfulness, knowledge, and customer service. We learned that Ken has been with the company for a long time, and we wanted to let you know that, from what we saw, he is a truly outstanding worker that I think you can feel quite confident he is out there representing your company really well with your customers! Hopefully you can keep him around for another 20 years! It sounds like Gary is a relative new addition to your company, but he brought a fantastic attitude to the job and was also great to work with. We were blown away by this team.

Also, Chris did a nice job of working with us throughout the process and even stopped by on the first day of the install (and the last day to bring the glass rocks for inside the fireplace) to make sure everything was in order.  He was patient with us, as we started looking into the possibility of a fireplace back in February/March.  We never felt rushed or pushed into any decision, just supported with information and answers as we needed them, giving us costs on various different items and configurations before we ultimately decided on something.
Looking forward to sitting by our new fireplace this winter!

– Jeff G.
These guys are as good as it gets. Very professional and understanding. Fixed my fireplace for $125 when I was told I needed an $1100 new fireplace from another company. Refreshing to deal with a Chicago company that isn't trying to pull one over on someone who knows nothing when it comes to their business. I trust these guys 100%.
Ray is fast and an expert at what he does.

I had made the mistake of having another fireplace repair company come and take a look at my fireplace, and to fix its problems. Those people from that other company told me that I would have to replace my fireplace, and that it could not be fixed. Also, they told me that it would cost me around $1000 to have it replaced.

It took Ray about 30 minutes to identify and fix my fireplace problems. And, he seems like a really nice guy.


These guys were a true pleasure to work with from start to finish.

I was trying to figure out how to get something out of a couple fireplaces that weren't in working condition. I initially started by calling in Lindeman, who wound up giving me an insanely high quote without thinking beyond reviving the fireplaces as wood burning. Not to mention the guy who gave me the quote just kept calling and calling and calling…

Then in came Chris from American Heritage, who came to my place the day after I called, and let me know about the option of ventless fireplaces– attractive to me both because of the cost and the fact that they generate so much heat. He in no way tried to upsell my wife and I– if anything he sold us against spending more– and was really patient with explaining everything.

Plus their showroom's nice. We went over there for an in -person look at the fireplace system we were interested in, and it only made us feel better about the decision.

About a week later our install was on time and totally painless.
Wow! Great service, extremely knowledgeable, and great with response time. I would absolutely look no where else for repair or purchases. I don't always find such great service, and think it's important for others to know!
We were looking to buy a fireplace in our bedroom and found a fireplace that we liked here. We also met Chris who was very helpful. In fact, the fireplace we liked was sitting on the floor. Chris asked us to make an offer on it and he took that offer to the owner. It took about a week for the owner to decide that he didn't want to sell his floor sample but instead he wanted to put it back on the wall.

Since it was summer we figured that we would let the owner stare at the fireplace and hopefully he would get sick of it and sell it to us. We spoke with Chris every month but every time the owner said no. We kept trying and I figured it would be ours. I think the owner knew we liked it so he wanted to sell us a new one…he would make more money.

We finally gave in and told Chris to get us a price on it. We were able to negotiate a good price, wave shipping costs and get a lower tax if we had them install the fireplace. Chris even came by to check out our space and give us a quote on installation. The fireplace was a vent less fireplace that hangs on the wall like a painting. Chris told us that his guys would have to open up the back of the wall to give it better support. He also said that his guys were really good and would mud it up.

So we went ahead and put half down and then we waited months for the manufacture to deliver the unit. This was not the fault of American Heritage but the distributor. Chris kept us in the loop and apologized for the delay.

Finally the day came and our fireplace arrived. The installers for American Heritage were really good. They ripped our wall open and then put everything back…I was amazed at how good it looked…I am sure that these two guys have done it a million times before.

It is now winter time and our fireplace is burning up our bedroom. Thanks to Chris from American Heritage for working with us and getting the job done. If we had room to install another one we would come back here and work with Chris.
I have complete 100% praise for American Heritage Fireplace. They did a tremendous job on the fireplace in my condo!! I am stunned at how great of a job they did. Mine was a difficult one and the work they did is amazing.

I worked with Todd (ask for him, he's great!). I gave him my plans of what I wanted to have done and he walked me through the showroom helping me figure things out. My fireplace is stone and I have a stone wall behind it and I was very concerned about being able to match the stonework to whatever stones they sold at their showroom. I was also looking to upgrade my look of the fireplace and also purchased a new system while I was there. Their prices were great and fair and Todd did a great job of explaining everything to me.

My installers were also great guys. The whole project took exactly a week and they were cheerful and funny throughout the duration of the project. I am a perfectionist and they were very cool about that, especially once when I asked that they rearrange some stones so it didn't look so clumpy and dark. They were happy to comply. If I can upload a picture, I'd love to do that, too to show what a great job they did.

I will always recommend these guys! They are perfect in every way. A great experience from top to bottom!
Nothing but great things to say about American Heritage. Chris worked us through figuring out what was the best thing to do with our 108 year old fireplace – providing pricing for each of the options and then not pressuring us to go for the most expensive one. In fact, even offering up some reasons we would want to go with the lower priced options.

Carlton and Vito took great care with our home. Before starting the work, they covered every surface in our living room and put up plastic to stop the spread of dust. Then they made sure things were clean when they left for the day. Watching them work you realize what it means to be a master mason – meticulous, precise, not happy until it was absolutely perfect.

I should also note that American Heritage had done work for us last summer. We were having smoke back up into the house when we burned. Other companies told us we had to do a total rebuild, put in a very expensive stainless steel liner, a fan at the top of the chimney, etc. Chris and crew figured out a way to reconfigure the chimney that completely eliminated the smoke and has the fireplace burning better than ever, and for far less than anyone else offered.

It is a rare combination to find a company that does great work and always manages to have the best price. Even if they did not have the best price, I would still use them based upon quality of workmanship and level of customer care.
I wanted to convert my decorative fireplace to a gas fireplace. I called American Heritage for an estimate, and Chris came by – I like that he explained why fireplaces like mine were formerly gas but shut down when the natural gas delivery method was changed in the 30s or 40s. He provided a few options, including a simple and relatively inexpensive ventless gas fireplace, which I ultimately went with. In fact, I was so satisfied with the price and the vibe from Chris (no high-pressure sales, just informational), that i did not contact other places for competitive estimates. The installers came in the general timeframe scheduled, and installed the fireplace in just 2 hours. They were both very friendly, worked fast, and explained how to use it very well. I love my new fireplace and I am very happy with the product and the service I received at American Heritage.
These guys are amazing. Even if my project currently has a logistical loophole nightmare, they are nothing if not professional!

Currently I'm living with a non-functioning, yet beautiful fireplace in my living room because of an asshole neighbor who is hell bent on making my life miserable.

It will be resolved though, and I can't wait to post the pictures.