Product Description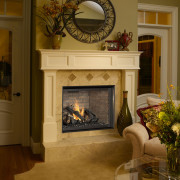 864 Clean Face™ GreenSmart™ 2 with Remote

Slope Glaze Burners and Matching Log Sets
High Output Linear Gas Fireplaces
Email to a friend
Description
Fireplace Xtrordinair presents the very best in home heating and style with its new line of High Output Linear Gas Fireplaces. The 3615™, 4415™ and 6015™ all feature a sleek, linear appearance while boasting an impressively high heat output. With a 15 inch glass height and three lengths available, these fireplaces can accommodate any sized living space from cozy dens to grand living rooms. The long row of dancing flames and built-in fans embodies the perfect balance of beauty and function. Turn on the under-lighting that shines through the translucent glass floor and you've got magic whether the fire is on or off. You can tailor the look of the unit to accompany any architectural style with a selection of fireback options, along with realistic fire art to personalize them even more. The new High Output Linear Gas Fireplaces by Fireplace Xtrordinair will add sophistication and warmth to any room.
Introducing the High Output Linear Gas Fireplaces Special Features:
• Two 90 CFM Blowers (180 CFM total of hot air delivery).
• Huge ceramic glass fire viewing area.
• Choice of three colors of translucent crushed glass.
• GreenSmart™ 2 wall mount remote control.
• Halogen accent lights illuminate the glass floor from underneath.
• Heavy-duty welded steel construction includes 10 gauge welded glass frame.
• ANSI compliant, low visibility screen over the glass prevents accidental contact and injury.
• 6 adjustable levels for fan, lights and flame.
• Optional Driftwood or Driftwood and Stone Kit Fyre-Art.
• With countless installation applications you can install these fireplaces almost anywhere in your home.
Behind the beautiful flames and high heat outputs of the 3615™, 4415™, and 6015™ are superior craftsmanship and quality safety features. These units are built to extremely high standards at our factory located in Mukilteo, Washington. From the heavy steel thickness of the fireplace body to the durable, welded glass frame surrounding the ceramic glass, you are truly getting the finest gas fireplace available. Installed over the glass is a ANSI approved barrier screen designed to prevent accidental contact with the hot glass surface, but not detract from the stunning fire view. See the difference in quality and performance with Fireplace Xtrordinair's High Output Linear Gas Fireplaces. Model 3615 HO GSR shown with the Tile Trim Kit, Ledge Stone Fireback, and Bronze Glass options. Power Heat Vent Kits The High Output Linear Gas Fireplaces' heating power can be used to heat additional rooms in your home with the optional Power Heat Duct Kit. The kit consists of a 130 CFM fan and a 20 foot heat duct. You can add up to two kits to these units, which are controlled from the remote location.