Product Description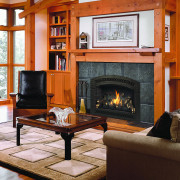 564 High Output™ GreenSmart™ 2 with Remote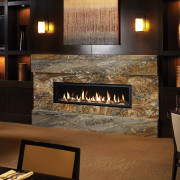 High Output Linear Gas Fireplaces
864 Clean Face™ GreenSmart™ 2 with Remote
Email to a friend
Description
The large, clean fire view of the 864 Clean Face showcases the highly detailed Dancing-Fyre™ log set and glowing embers from any angle in the room. This all-glass appearance shows no visible face, grills or louvers, it simply highlights the fire. All of the components on this fireplace are controlled with the easy-to-use GreenSmart™ 2 wall mounted remote control. The 864 Clean Face™ comes fully loaded and includes accent lights and powerful convection fans for maximum heating performance. The 864 Clean Face™ Gas Fireplace is the perfect solution for anyone looking to have a big, beautiful fire that provides supplemental heat. Ideal for small to mid-sized homes or zone heating in large living spaces such as great rooms and living rooms, the 864 Clean Face™ allows you to comfortably display a gorgeous, glowing fire all year-round while being able to control the heat output to a setting that is just right for you. Optional Decorative Fireback Designs The interior of the 864 Clean Face comes black painted. You have the option to personalize the inside of your fireplace with one of our beautiful fireback designs. Optional Cast Iron Andirons Make a dramatic statement with a pair of our beautiful optional cast iron andirons.
Arabesque Colonial Wrought Iron Features:
• Tempered glass: 34-1/2″ W x 22-1/4″ H
• Split-Flow Dancing-Fyre™ burner with high definition logs and embers for realistic flame.
• Low visibility ANSI approved glass safety screen.
• Fully loaded GreenSmart™ 2 system.
• 8" top or rear vent installation options.
• Accent Lights
• Two 90 CFM Convection Fans.
• Wall Mounted GreenSmart™ 2 Remote Control.
Additional Options:
• Black Powder Coated Trim.
• Power Heat Duct Kit for transferring heat to one
• additional room in your home up to 20 feet away.